Welcome to Sancta Maria Catholic Primary School
"Children are a gift from the Lord" Psalm 127:3
Sancta Maria Catholic Primary School is a new integrated Catholic primary school, that opened in 2010, in the heart of Flat Bush. It has been established with significant care and consideration given to the educational needs of Catholic children living in the 21st century. The new Sancta Maria Catholic Primary School shares the Catholic campus with Sancta Maria College, St Luke's Catholic Community and St Luke's Catholic Presbytery.
Our Vision
Students who are educated, successful and active citizens with Catholic faith in their hearts.

Our Mission
We are committed to celebrating an innovative and inspiring Catholic education of excellence, with Mary as our model.

Our Values
Walking with Mary, as our guide to God we are:
- Full of Grace - Obedient - Faithful - Compassionate -
- Thoughtful - Hopeful -Contented - Determined
The Term 4 Value is Determined
We live our value of Contentment through the VIRTUES of...

Courage, Self-discipline, Perseverance, Excellence

We recognise that our children need to develop a sense of determination and perseverance to succeed to reach their personal potential. As Mary proved to us, with hope and determination anything is possible.

Determined

– Focusing your energy and efforts on a task and then sticking with it until it is finished.

It feels good to meet your goals.

"But standing by the cross of Jesus were his mother, and his mother's sister, Mary the wife of Clopas, and Mary Magdalene. When Jesus saw his mother and the disciple whom he loved standing near, he said to his mother, 'Woman, behold, your son!' Then he said to the disciple, 'Behold, your mother!' And from that hour the disciple took her to his own home." John 19:25-27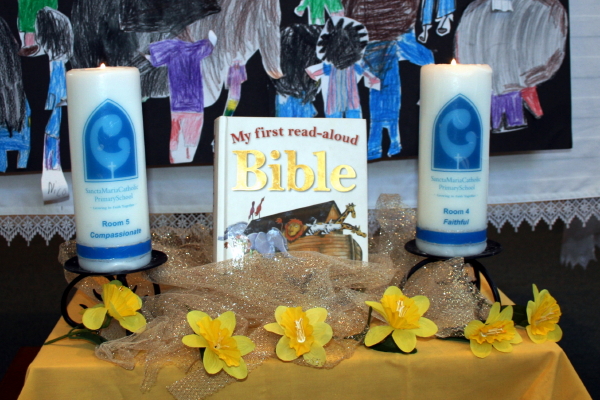 The school aims to have a nurturing, safe and positively disciplined atmosphere where children will feel a sense of belonging and have an acceptance of cultural diversity.
Our aim is to:
Grow in faith together
Love learning and strive for personal excellence
Respect God's creation
Develop our God-given gifts, enabling us to reach our potential
Unite in spirit, as family, school, Church and community
GROWING IN FAITH IN CHRIST JESUS NEEDS HOME, PARISH AND SCHOOL - ALL THREE - WORKING TOGETHER.
Heavenly Father,
You blessed the Virgin Mary with the fullness of grace.
She is our model of faith, hope and love.
We give this new year to her intercession and ask for her holy prayers.
Place our needs into the protection of her motherly love.
With her help, we want our faith to grow.
Give us an increase in the virtue of hope when troubles tempt us to despair.
Guide us in understanding Your infinite love.
And join our hearts, dear Lord, to the Holy Mother's Immaculate Heart,
so that we may improve in loving everyone unconditionally, in imitation of our Saviour Jesus.
Amen.